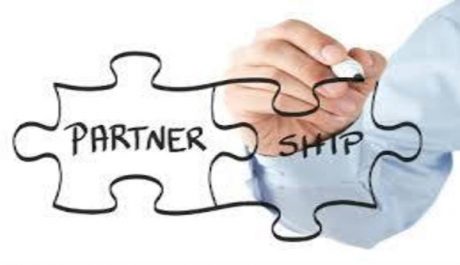 "It is necessary to believe in your abilities to make ideas come true."
     If you are going to start a new business, then you have to be careful that you have to choose, a right entity for your business. It is very important to make the right decision while incorporation of your business. You can incorporate your business as a Sole Proprietorship Firm, if there is only one owner of the firm, Sole Proprietorship Firm requires only person for incorporation of business whereas there are requirement of 2 or more partners to incorporate a Partnership Firm. This Article talks about the Sole Proprietorship and Partnership Firm and their differences.
Sole Proprietorship Firm :
     Sole Proprietorship Firm is the oldest forms of business where business incorporated by only one person so a Sole Proprietorship Firm can incorporate by only one person. There are no formal laws on Sole Proprietorship Firm and there is no formal registration required for Sole Proprietorship Firm. The sole proprietor can do business operations under the name of the owner or under any fictitious name such as "ABC mobile repair shop". In such a business form, the owner or the proprietor of the business is responsible for all the financial legal issues, debts, assets, liabilities, etc. It does not separate business from its owner as in the case of PVT LTD, LLP, etc. This form of entity is suitable for petty businessmen who have very less capital requirements and do not want to indulge in the back-breaking legal registration process.
     It is the best form of business for those who is alone owner in their business because he can take all decision of his business by himself. A Sole owner uses his experience, skills, knowledge, capital, and resources to run his business. If you want to register your firm then you can register with Udyog Aadhar, GST, PAN card, Trademark because there is no formal registration required for Sole Proprietorship Firm Registration so you can register your business with GST, Udyog Aadhar and PAN card. Registration with Udyog Aadhar will gives identity to your business and you can take benefits from the government after obtaining Udyog Aadhar. GST is also important registration for any business if their turnover is more than 40 lakh rupees and a PAN card is also important for you because without it you cannot pay your taxes. Registration of firm will give you protection under the laws and you can avail your rights so you should register your Sole Proprietorship Firm.
Partnership Firm :
     A Partnership firm can be incorporated by two or more person and it is governed by the partnership act. According to Partnership Act, there is no requirement of minimum contribution from partners during incorporation of Partnership Firm and registration is not mandatory for Partnership Firm, it is optional, if you want to register your firm then you can register it under the Registrar of Firms. Registration will give you protection under the laws and there are many benefits of registration so you should register your partnership firm.
The registration process is quite simple :
1)Choose your Firm name, and it should not be copied from others
2)Make a Partnership Deed, and this deed should be signed by all partners and it requires a notary and stamp on it. This deed contains all the details of the firm and partners.
3)Final Step is you have to register your Partnership Deed under the Registrar of Firms.
Difference between Partnership Firm and Sole Proprietorship Firm :
There are many differences between both:
     The first difference is, in a Sole Proprietorship Firm it requires only 1 person for incorporation whereas partnership firm requires 2 or more person for incorporation of Partnership Firm.
Partnership Firm is governed by Partnership Act whereas there is no formal law on Sole Proprietorship Firm.
Partnership Firm Registration is not mandatory but it is optional, if you want to register it then you can register your firm under Registrar of Firms whereas there is no formal registration required for Sole Proprietorship Firm.
The sole proprietorship firm has only one owner, so the entire responsibility is of the owner, while there are two and more than two partners in the partnership firm so it is easy for them to share the responsibility. So in a partnership firm, partners can share the burden of responsibility.
Decision-making is easy in a Sole Partnership whereas it is difficult to take decisions as there are 2 or more partners.
It is easy to bring the resources into the partnership firm because every partner is bringing their skills, capital, and experience whereas it is more difficult to bring resources in Sole Proprietorship Firm as there is only one person in the Firm.
In a Partnership Firm a partner can limit his risk whereas, in a Sole Proprietorship, the owner cannot limit his risk.
In the case of the death of the Owner, the Sole Proprietorship will be dissolved because it has only one owner, whereas, in the case of a Partnership firm, partners can carry the business.
The difference in the documents required for Sole Proprietorship & LLP(Partnership) in India :
There are few documents required for forming up the sole proprietorship as follows:
KYC documents of bank

Identity proof of the owner (Aadhar Card, Voter ID card)

PAN card of the owner

Office address proof

Utility Bill

Income tax returns of the owner

Proof of office address (Rent Agreement, Possession letter, copy of property papers)

NOC by the landlord in case of rented land

Shop and Establishment License

Service Tax Certificate (in case of service business)

Charted Account Certification (in special cases)

CST/ VAT certificate

Limited Liability Partnership
The following documents are required for LLP registration:
PAN card of the directors

Passport size photo of directors

Identity proof of directors (Aadhar card, Voter ID card)

Address proof of the office (Rented agreement, Possession letter, copy of property papers)

Utility Bill

Latest bank statements

NOC by the landlord in case of rented land

Copy of the passport in case of foreign national

Incorporation Certificate (if applicable)

The difference in the formation process of Sole Proprietorship & LLP in India
Sole Proprietorship
     The first step for the formation of a Sole Proprietor firm is to apply for the PAN card.
After that, you can decide on any unique name for your company by which your firm will be known to the public.
Then decide the location where you want to begin your business operations.
In the next step, you need to open the current bank account with the company's name.
Then, you can obtain the Shop and Establishment License if you are a small retailer, trader, etc.
You need to obtain GST registration if your turnover exceeds 40 lakh and 20 lakh in North-eastern Regions like Assam, Mizoram, etc.
Limited Liability Partnership
     In LLP, the first step is to obtain a Digital Signature Certificate (DSC) from its Certifying Authorities. According to the Information technology Act, 2008, directors should obtain DSC to submit electronic forms for the security and authenticity of documents.
After obtaining DSC, they can apply for DIN (Director Identification Number) or DPIN (Designated Partner Identification Number). Both DPIN & DIN can be obtained by filing up E-Form DIR-3.
After obtaining 8 digits DIN, directors can approve their proposed company's name through Reserve Unique Name (RUN) by filing up 2 suggestions and check the existing companies name as well.
Then after the proposed LLP's name approval, the applicants need to file the Incorporation application in e-form FiLLip (Form for Incorporation of Limited Liability Partnership) with the Registrar.
When the Incorporation of the company will be done, then, the directors/partners need to fill the Limited Liability Partnership Agreement within 30 days of the date of Incorporation. LLP Agreement can be filed on Form 3 which is available on the Ministry of Corporate Affairs (MCA) portal and the agreement should be printed on stamp paper which maintains flexibility in business management.
A)Difference in the advantages of Sole Proprietorship & LLP in India
Sole proprietorship
A sole proprietorship can be easily formed by a single person.
Owners can establish sole proprietorship easily with fewer capital requirements.
A sole proprietor needs not to pay any corporate tax as in the case of other entities.
Owners can freely combine business and personal assets.
The owner of the business is solely responsible for the activities of his business and can run a business according to his/her choice.
Limited Liability Partnership
LLP provides limited liability protection to the owners of the company from all the debits and credits.
LLP has a simple Incorporation process with the least legal compliances.
There is no maximum limit on the number of partners to form an LLP.
The partners of LLP are exempted to pay DDT (Dividend Distribution Tax)
Preferable by CAs, CPAs, Advocates, etc.
In LLP, there is transparency and flexibility in business management as everything has been mentioned in the written document even the profit distribution ratio of the partners.
There is no requirement for compulsory audit in case of LLP.
There is no minimum capital requirement to form LLP. All the capital contribution will depend on the will of partners.
B)Difference in the disadvantages of Sole Proprietorship & LLP
     Personal assets of the owner are not protected in the case of Sole proprietorship. The personal assets of the owner could be seized in case of business solvency.
Sole proprietorship firms can rarely survive in case of the owner's death or bankruptcy.
A sole proprietor cannot raise more capital for his business as only a single person is managing all the business.
Limited Liability Partnership must have at least 2 members; LLP may get dissolved if any one member chooses to leave the company.
LLP has to file Income Tax and MCA's annual returns every year even in case it doesn't have any activity. They have to penalty Rs100/day if they are not able to file returns on time.
LLP cannot raise funds from shareholders, as the concept of issuing equity shares cannot exist in LLP. Hence, even the angel investors, Venture Capital, etc can prefer Privately limited over LLP for their investments.
The income tax rate for LLP is 30% irrespective of its turnover. Generally, it is 25% for the companies except for LLP who has a turnover of up to 250 crores.
Conclusion
    As you read in the above article that there are many differences between the Sole Proprietorship Firm and Partnership Firm so you have to choose wisely for your startup. Registration of both is important because registration will give you protection under Indian Law and in case of failure of registration you may have to face many legal problems. LLP in India is mostly preferable by Advocates, CAs, CPAs; micro and medium-scale entrepreneurs while Sole Proprietorship could only be preferred by small-scale entrepreneurs as it is the simplest business form.
                                                                               – Swarnima Nikam.
"Strengthen the foundation of knowledge and develop yourself."

Stay Updated…
Other Blogs
Follow Us On Facebook And Instagram
For More Information Please Call Us On 7272971971