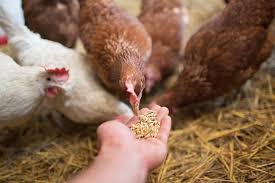 Poultry Feed manufacturing
70% of the total expenditure in poultry business happens only on poultry feed. 35 to 45% of the total feed given to chickens gets converted into Eggs and meat production.
Protein is required for the growth of chickens and to improve immunity and healing power of the body.
Sprouts contain around 8-12% proteins and 30 to 40 percent proteins are found in dual split grains. Poultry feed should include proteins from vegetables as well as animals.
Jowar, wheat, maize, rice etc. are rich source of carbohydrates in the grains. But
Chickens also require ingredients which are rich in fat for healthy growth.
This fat is utilized and burned at the time of food starvation by their bodies which help to maintain their body temperature and provide energy. Fatty food also brings taste to the food. All types of edible oils and meat oil contain fat.
Chickens need minerals for bone strength and food digestion.
Minerals help to strengthen the legs and bones. It also enhances the growth of the bones and keeps them healthy.
The body requires calcium, iron, salt, phosphorus, iodine, copper, sodium, potassium, selenium, magnesium, manganese, zinc etc. minerals.
Vitamins help to improve immunity and increases production. Vitamins are used to stay physically active and glowing.
If you are interested in Poultry Feed manufacturing starting this business, please click on the green bar below to contact.